Always Have Table Skirt Clips on Hand
6 Reasons to Always Have Table Skirt Clips on Hand
At FASTENation, we know a thing or two about keeping things in place.
In fact, you could say it's at the core of what we do.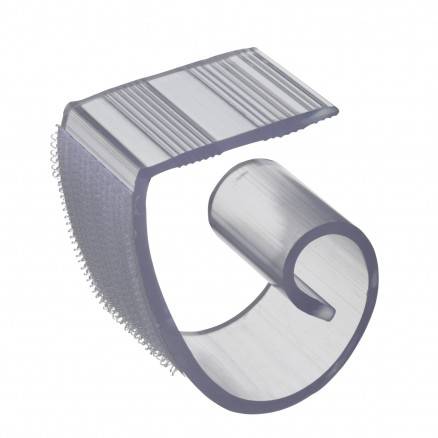 The French phrase mise en place (translated loosely as "everything in its place") has lots of uses in the hospitality industry. It can refer to how a chef sets up their station or how a table is set, but it always follows the same idea: In order for the guest to have the best possible experience, it's vitally important that everything be prepared and in the right spot. At FASTENation, we know a thing or two about keeping things in place. In fact, you could say it's at the core of what we do.
That's why some of our most popular items for our service industry customers are the simple table skirting clips. These plastic clips grip the edge of a table and keep the linen securely in place with a clamp or strip of hook and loop adhesive. Sounds simple enough—but keeping them on hand is a vital part of running a high-performance service establishment. How can some simple plastic clips improve your event or establishment and help you master your front-of-house mise en place? Here are six ways that FASTENation's table skirting and tablecloth clips live up to the hype.
1. They're A Key Part Of Great Attention To Detail.
In the service and events industries, attention to detail is absolutely everything. For a guest, it can be the difference between a bad experience, one that's just okay, and one that has the "wow" factor and keeps the guest coming back. That means that something as simple as a table skirting clip can potentially make or break a guest's experience.
Getting caught without a key basic need like skirting and cloth clips is a bad look for any event or restaurant. Without them, it's hard to keep linens in place, and your guests might suddenly be looking at a bare table. Keep your mise en place strong and make sure that you've got durable skirting and tablecloth clips securing your linens.
2. Skirting Clips Have VELCRO® Brand Hooks To Provide A Durable, Aggressive Hold.
VELCRO® Brand Hook and Loop fasteners are the original hook and loop technology, and they still do it better than any other brand out there. Our skirting clips include a piece of this high-performance hook fastener on the outside to hold skirting in place. Match it up with loop fasteners on your skirting, and you've got a powerful hold that will keep it in place.
3. They're Designed To Fit Common Brands Of Tables.
If you're using common table brands like LIFETIME® or ICEBERG®, you'll be glad to know that we offer clips specially designed to fit these tables! By using a clip that's designed with your table in mind, you'll help ensure a more secure fit and a neater look. (Note: Not all models of clip fit all models of tables, so make sure to check first!)
4. They Come In Value Pack Sizes That Make It Easy To Never Run Out.
Another part of success in the service industry is always being prepared. FASTENation offers skirting and tablecloth clips in convenient value sizes, including 250, 500, and 1,000. With an economy-size bag of clips on hand, you can be confident that you've got the supplies necessary to keep your table linen in place and looking great.
5. They're Durable And Easy To Reuse.
Waste not, want not, as they say—and, with our reusable clips, you'll be well-positioned to reduce waste. Our clips are created from durable plastic and can easily be removed and reused. With smart reuse strategies combined with value sized packaging, you'll have a supply of clips that you can depend on in a pinch.
6. They Come In A Full Range Of Sizes And Designs.
At FASTENation, we're dedicated to giving our customers just the right solution for their needs, so we've made sure to stock a wide variety of table linen clips. Whether you need to attach skirting or a tablecloth, and whether you want to clip it or even hang it, we've got the solutions that will make your life easier. Your mise en place will shine and your guests will go home happy—and isn't that what it's ultimately all about?
The service industry is all about making sure you've thought of everything—and skirting and cloth clips are an essential part of the tool kit. FASTENation can help you make sure you're prepared with these key tools today! If you've got more questions about our skirting clips or anything else, call our fastener experts at 1 (800) 876-9922 or just contact us online.
---
Table skirting clips & more